Read also in Italiano
I know it's almost late September, but my month started late. Between the holiday at the beginning of September, the still beautiful sky, the warm wind … I didn't realize we were already in the fall! It's time to make a roundup of good intentions for this new season and while I'm at it, I'll show you my beauty products of the moment, to help with!
Maintain tan
Hydration is important for every season, but now it is even more so if you want to keep the tan obtained with so much effort during the holidays (me). For this September I apply the refreshing after sun gel from Hawaiian, every evening and morning. I had a great time with this brand in the past, and this year it was no less. Then that coconut scent … mmh! Last year I was able to buy the after-sun with gold granules, it was called Ultra Radiance, they illuminated the skin with fear. Unavailable this year, sigh! That was my favorite! As you can see from the photo, both products are almost finished. I would eat them almost!
Do not put your bikinis away too soon
To gradually get used to the change of season, habits must be changed gradually. And after the back to work shock, the realization of not being on vacation anymore, the first rains … I would say that we can wait to put away our bikinis, and give us a nice day at the spa, between cuddles, scrubs and messages. What are you saying? For the occasion, I show you a bikini that I haven't shown you in any photo yet. It is a leopard print bikini by SHEIN that I really like, it's super comfortable and cool, and if you like it, I remind you the 15% discount with the onceupontime code if you spend at least € 59! Well do not digress, let's get back to us.
Dry oil for the skin, to protect it even during the day
The cool morning breeze is coming, and since I want to keep my face tanned too, hydration and protection are essential. For a while I have put two drops of Kiehl's day oil on my cheeks together with the CC cream, then I stretch it all together with the foundation brush. Even my colleagues pointed it out: my skin is glowing! Careful, if you have combination skin, just two drops counted! Otherwise, it's too greasy. The full name is Kiehl's Daily Reviving Concentrate.
Eat healthier
No, I won't go on a diet and I'm sure I won't give up wine or pizza on Saturday nights. But during the days, I will try to be more attentive to what I eat and drink, and above all: straight to the gym! And during the change of season, I find benefit in an integration of Magnesium. And you?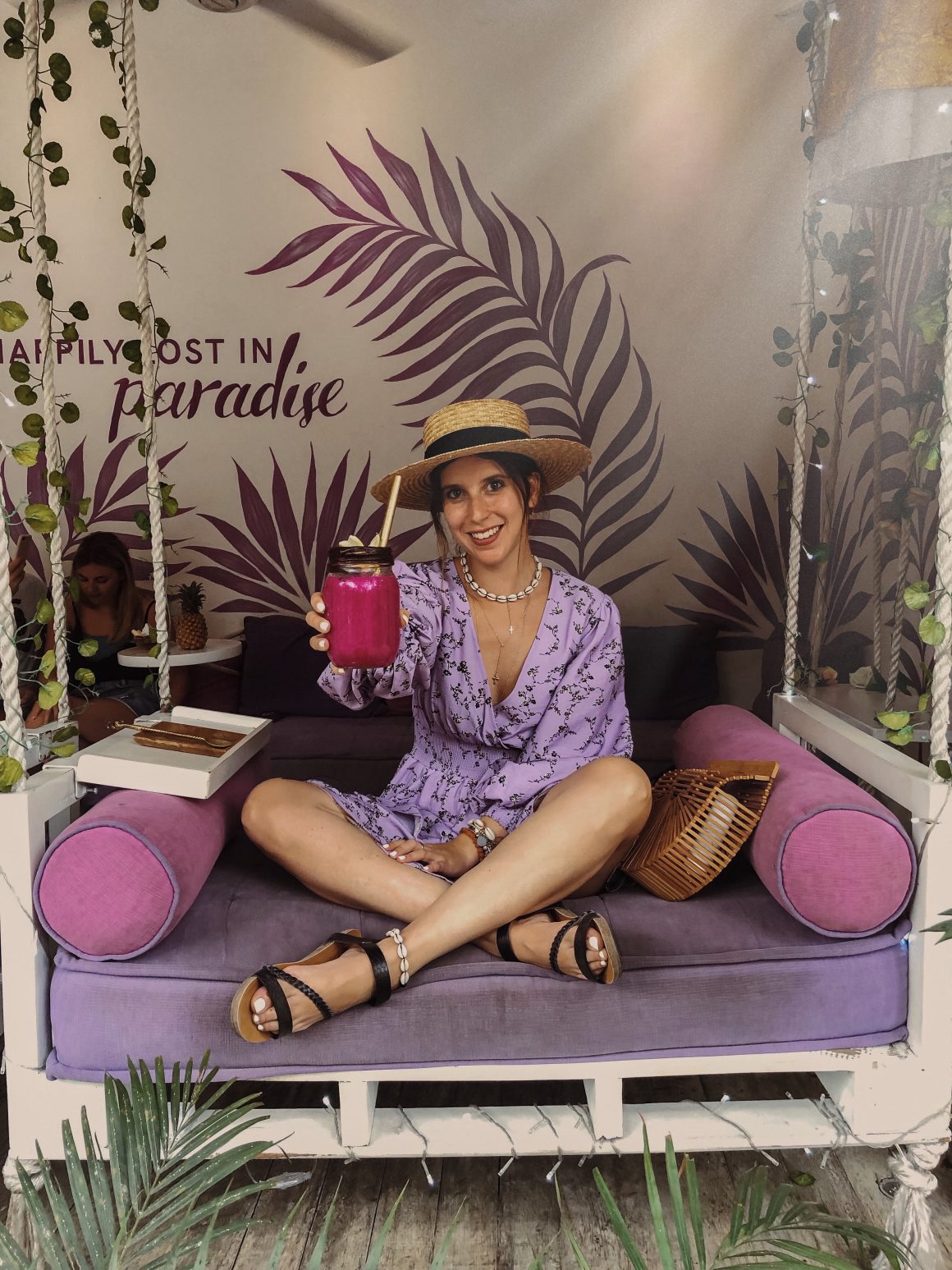 Mascara or Castor Oil?
I want to try to put away the bulky, intensifying, fluffy mascaras I used during this period. Lately I've been testing the Benefit mascara called "BADGal". Mh. Too lumpy for me. It made the eyelashes heavy and it's so hard to be removed. Instead, I would really like to try castor oil for the eyelashes, to make them stronger and thicker. I know that there are mascaras reinforced with this oil, tips?
Coconut oil and Coconut milk
I started using coconut oil on damp hair to reinforce it, then I tried it as a heat protector just before the straightener. What can I say, miraculous! I bought a nice package in Bali which I will soon try as a sleep-in mask for my hair. Attention to doses, especially if you have fine and smooth hair like me: it greases a lot! Yes on damp hair (I put it before wrapping it around the towel), absolutely not from dry / semi-dry. Have you tried it? How did you find yourself? For the Dubliners: SuperValu and Tesco, but also TK Max, they have plenty of them! The alternative is Amazon: there is so much choice and the jars are huge. Attention: the coconut oil freezes at 24ºC and melts at 26ºC. So it's normal that you find it very hard if the temperatures drop! Heat it a little in bath and you are ready.
In the diet, coconut milk increases good cholesterol, gives a great sense of satiety (which helps to eat less) and is excellent as an alternative to milk for those who, like me, are lactose intolerant. Many body or hair creams are also based on coconut milk instead of coconut oil. Equally moisturizing (more or less) but less oily. On hair I continue to prefer oil (but in small doses!).
Relax, take it easy
I always repeat it and I never do it: breathe. When things pile up, when I'm tired, when I feel like I'm not making it. Stop. Take a step back. Breathe. And move far to have a bigger and clearer picture.