Read also in Italiano
It's March already, that period of the year where the temperatures are warmer but not that much, it rains one day and the other as well, but when the sun comes up, the breeze is so amazing..
It starts that period of the year where, let's face it, nobody knows how to dress! It's exactly in this period of the year that I always have a look at my favorite website to seek new flash sales or discount codes. In fact, from today there is a massive sale on Shopbop! The more you buy, the higher the discount is! Up to 25% off store wise on the majority of the items, also the one already discounted! You just need to add the code GOBIG19 at checkout! You can get 15% off on orders from $200+, 20% from $500+ and 25%on orders from $800+! I didn't want to miss this, trying to buy the most clever pieces for this season. Let me tell you what!
Winter coat
I know, I just said that the temperatures were getting warmer.. but let's face it, it's still super chilly at night! And it rains. A lot. What better moment to buy a nice winter jacket, if not during sales? You can buy stuff to buy now and also next year. During this period some pieces are a,ready discounted, plus 25% off… it's a bargain! I was thinking about buying a Woolrich. Their coats are waterproof, they last long and they are rarely on sale (and they are usually expensive). So, having it at 25% is top!! What is your favourite among those pieces here? They are also coming from different brands!
Mother 2. Mackage 3. Brumal 4. Woolrich 5. Canada Goose 6. Woolrich 7. Canada Goose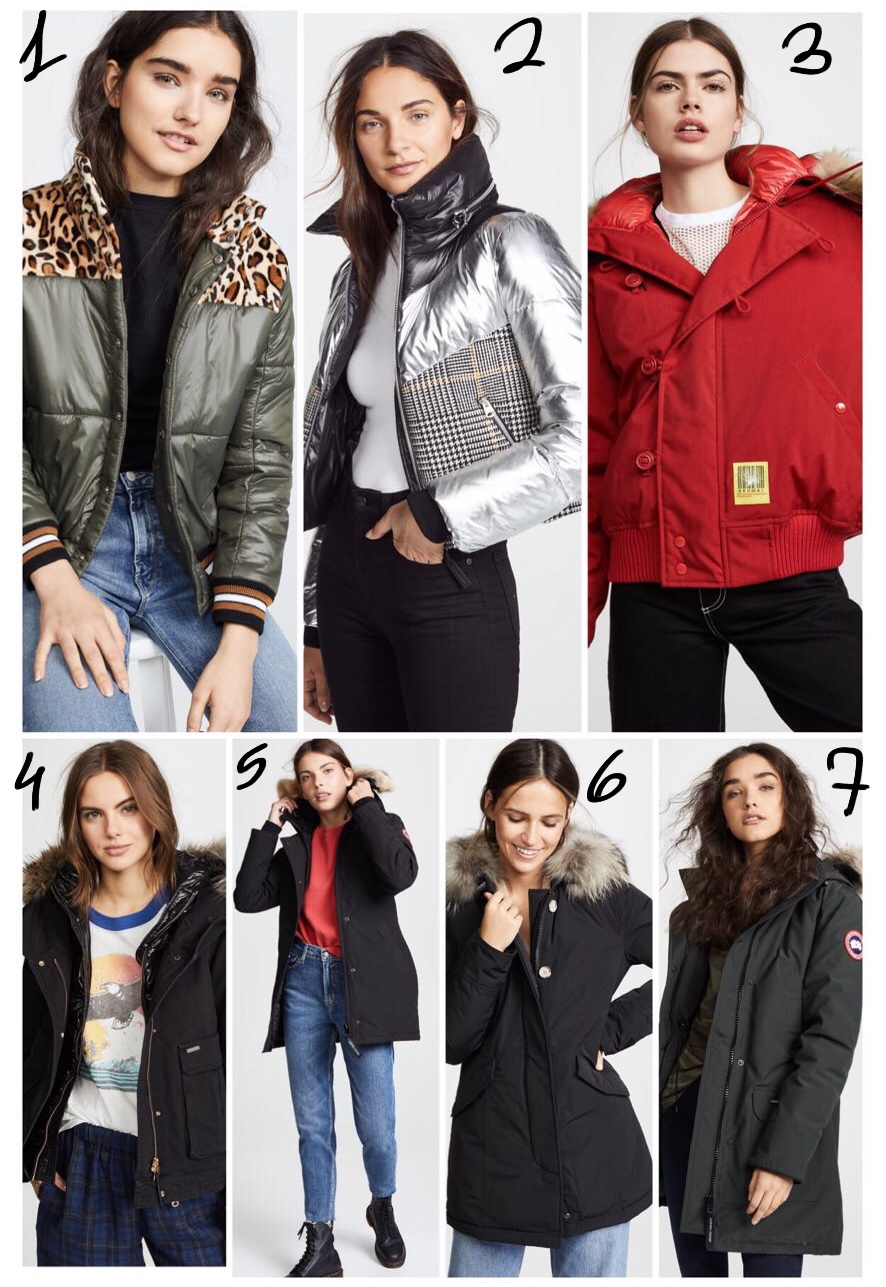 Rain coat
Who said that rain coats are boring and only kids wear them? The rain coat become a real masterpiece, and it's a must have in every wardrobe. Moreover, it's perfect for this period and Shopbop has a lot of different models and colours to choose from! Do you like my picks?
Rains 2. Maison Chateau Rouge 3. Rains 4. Rains 5. Rains
Something coral
It's the color for the next season, you can't have nothing coral in your wardrobe! It's fun and bright, and it's so easy to wear. I swear! Think about an amazing coral blazer on a white T-shirt with jeans. The perfect way to make more glamorous a basic look! So, since there won't be any discount on coral pieces for a while, why don't take the chance with the 25% off? Here some ideas:
PJ Salvage 2. Alexis 3. Silvia Tcherassi 4. Fame and Partners 5. Madewell 6. BaubleBar 7. Rachel Comey 8. Tory burch 9. Senreve
Headbands
You can find this accessory basically everywhere: the headband will adorn many many girl's heads this summer! If you wanna buy a statement headband, something more colourful or impactful, then some discount could come handy here. Look how many solution there are over there on Shopbop!
Namjosh 2. Namjosh 3. Jennifer Behr 4. Eugenia Kim 5. Jennifer Behr 6. Loveshackfancy 7. Namjosh
Straw bags
You can't escape, straw bags would be your go-to piece this summer. Like flowers for spring, groundbreaking, uh? It's better to choose the right one on time, especially if you have planned some warmer destination holiday over a weekend soon..
Mar Y sol 2. Loeffler Randall 3. Skipping Girl 4. Skipping Girl 5. Caterina Bertini 6. Mercedes Salazar 7. KAANAS 8. Kayu 9. Poolside Bags
Evergreen office pieces
It's good to go and choose the most fashionable trend of the season, but having a discount code gives also the possibility to buy evergreen stuff that you might need and that you can wear again and again in simple but chic office or school looks. Those pieces that you can mix and match whatever you want. You need them anyway, uh? Those are my choices!
Theory 2. Marissa Webb 3. Moschino 4. Tory Burch 5. Vince 6. A.L.C. 7. ei8htdreams 8. Joie 9. Furla 10. Dorateymur 11. Tory Burch 12. LAVEER
So, what do you think about this selection? Do you like it? Do not forget to add the discount code GOBIG19 at checkout, if you decide to do some shopping on Shopbop! The more you buy, the more discount you have! You have untl the 3rd of March!