Spring Trends 2017 – Look da lavoro!
Qui la primavera tarda ad arrivare. Piove, le temperature sono sempre un po' basse.. Ma la speranza è sempre l'ultima a morire. E io, che la primavera arriverà, ci credo assai!
Intanto mi guardo un po' di ispirazioni online, nell'attesa di poter veramente comprare e indossare qualcosa di leggero, svolazzante.. Soprattutto a lavoro. Perché i trend si possono reinventare realizzando look un po' più semplici e sobri, ma sempre di moda, perfetti per essere indossati tutti i giorni al lavoro. Eleganza, decoro e comodità. Ma soprattutto: floreale, minimal, righe, mix and match, anni 80 e colori accesi! Aspettate, si, andiamo per ordine! Di seguito alcuni dei miei look preferiti.. cliccate sulle immagini e appariranno dei numeri: cliccate sul capo che vi interessa e compratelo! Facile no? Il sito dove potete anche sbirciare altre bellissime cosine – anche a sconto – è QUESTO.
'80s, righe e look da college
Un bomber jacket stile college, sportivo, ma con un tocco floreale dai colori accesi. Direi la combo perfetta per mettere insieme 3 dei trend di stagione. se poi si abbina ad una camicia maschie a righe, si crea una combo mix and match geniale. Da indossare con le sneakers di giorno e con sandali gioiello di sera. Un outfit che trovo perfetto soprattutto per le donne lavoratrici come me: avere un look perfetto dalla mattina alla sera è una comodità. Perfetto per un venerdì lavorativo con una cena con i colleghi la sera, no?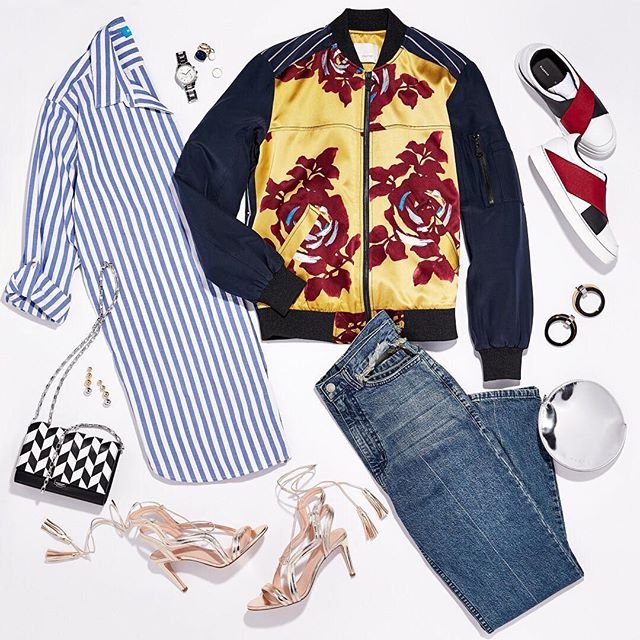 Comfy Sunday
Torna, anche quest'anno, la passione per le spalle scoperte. O anche per una spalla sola. Mixato alle righe e ad una maglietta/camicia si ha comodità e stile allo stesso tempo. Espadrillas – si si quelle non passano mai di moda, anche in versione bassa! – e un jeans ed è fatta. Oppure, per essere davvero, davvero comode, una t-shirt con sopra un sexy corpetto di pizzo. Ma si, il mix and match è anche questo ! Indossare un capo sexy e trasparente sopra una t-shirt bianca, trendy ma adatto anche per il lavoro! Pensatela anche con sopra un blazer… Da copiare subito!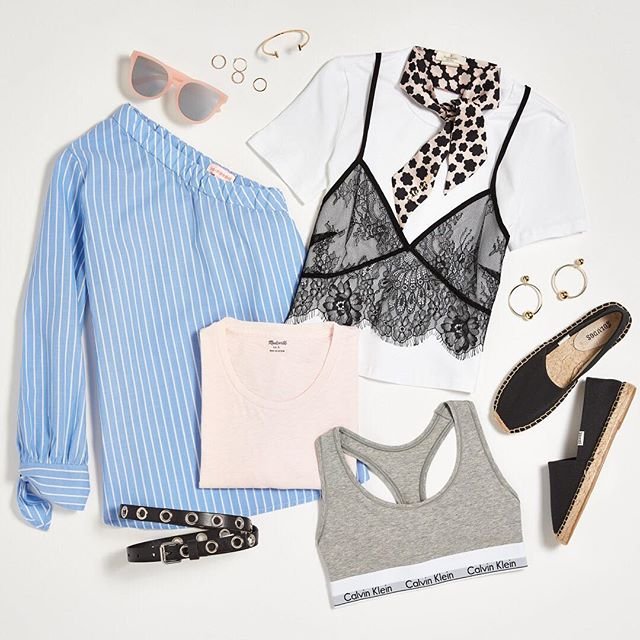 '80s per il lavoro
Indossare uno degli Spring Trend 2017 non significa limitarsi al weekend o alla sera. Giacca di pelle bordeaux, pantaloni patchwork con 4 diversi tipi di jeans e una maglietta svolazzante – o in alternativa un maglioncino leggero, come piace a me – sneakers, tracolla e via. Look da lavoro fatto! Comodo ma trendy, ideale anche per le passeggiate di shopping il sabato pomeriggio… no?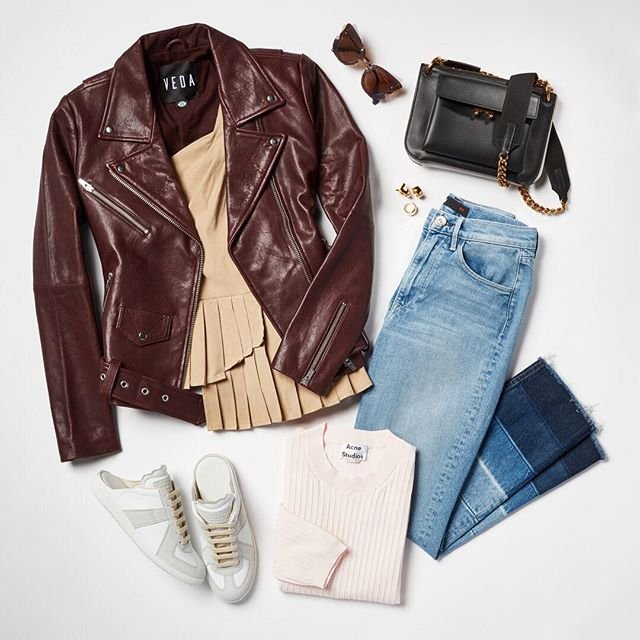 E voi, cosa indossate per andare a lavoro? Buona giornata a tutti!
Spring Trends 2017 – Work Looks!
Here, spring is coming late. It rains, the temperatures are always a bit cold.. But hope is always the last to die. And I believe so much that Spring will come, one day or another!
Meanwhile I look at some inspirations online, waiting to be able to really buy and wear something light, fluttering. Especially at work. Because trends can be reinvented by making the look a bit simpler and more sober, but always fashionable, perfect to be worn everyday at work. Elegance, decor and comfort. But above all: floral, minimalism, stripes, mix and match, 80's and bright colors! Wait, let's go! Here there are some of my favorite looks.. click on the images and numbers will appear. Click on the item you are interested in and.. shop it! Easy peasy! The site where you can surf among a lot of other great stuff – a lot are on sale! – it THIS ONE.
'80s, stripes and college look
A bomber jacket college style, sporty, but with a floral touch of bright colors. I would say the perfect combo to put together 3 of the season's trends. If you match a striped male shirt, you can create a brilliant mix and match combo. To be worn with day sneakers as well as evening bright sandals. An outfit that I find perfect especially for working women like me: having a perfect look from morning to evening is a great thing. Perfect for a business Friday with a dinner with colleagues in the evening, right?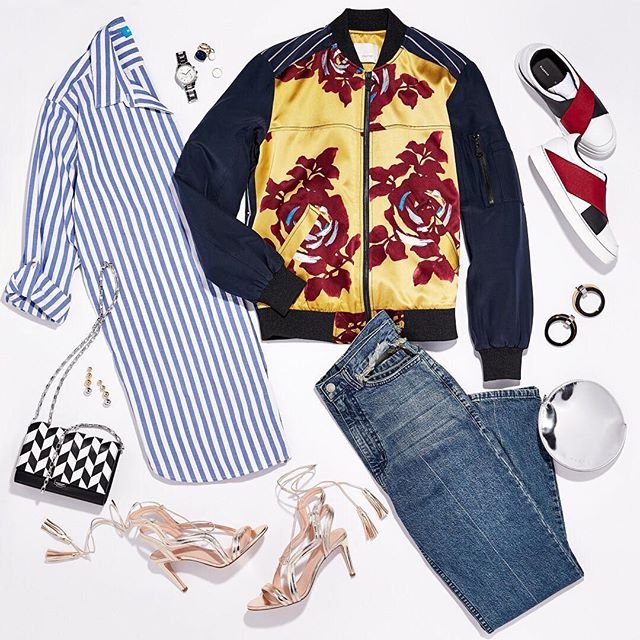 Comfy Sunday
Back again, this year, is the passion for bare shoulders. Or even for a single bare shoulder. Blended with stripes and a shirt you have comfortable and stylish look at the same time. Espadrillas – they never go out of fashion, even in low heels version! – and a jeans and it's done. Or, to be really, really comfortable, you can wear a t-shirt with a sexy lace trim above. Yes, the mix and match is also this! Wear a sexy and transparent dress over a white t-shirt, trendy but also suitable for work! Think it with a blazer over… To be copied right now!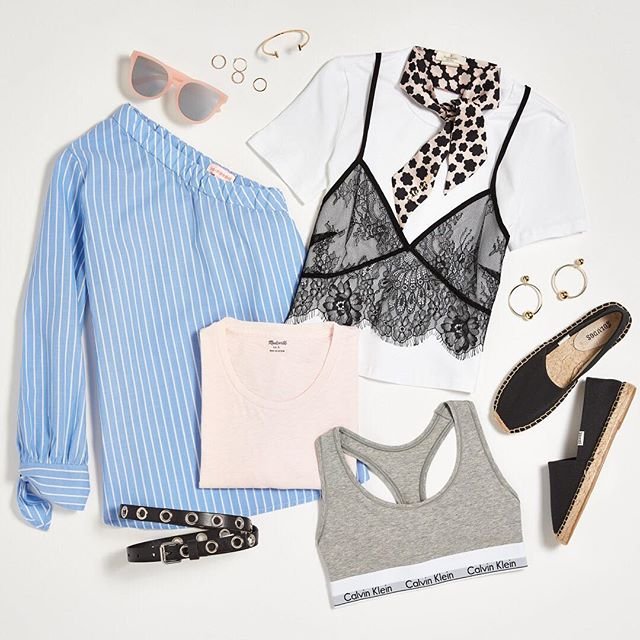 '80s for work
Wearing one of the Spring Trend 2017 does not mean limiting itself to the weekend or the evening. Bordeaux leather jacket, patchwork trousers with 4 different jeans layers and a fluttering shirt – or alternatively a lightweight sweater, as I like most – sneakers, shoulder bag and that's it. Look for work done! Comfortable but trendy, also ideal for shopping walks on Saturday afternoon… don't you think?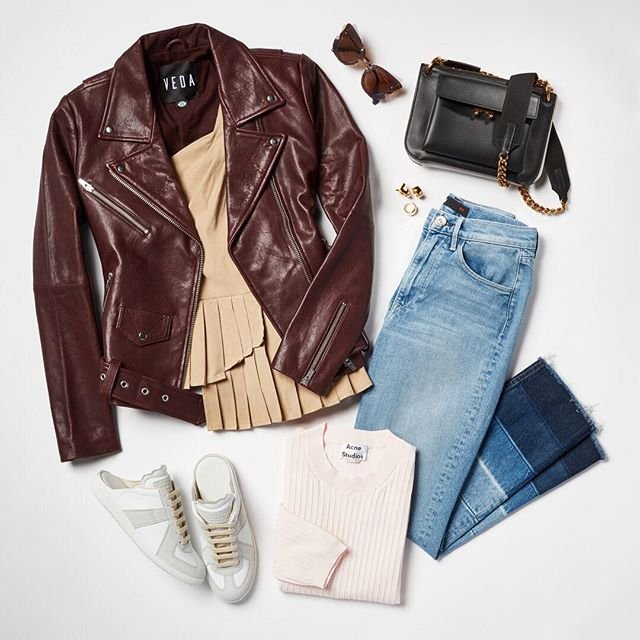 And you, what do you wear to go to work? Good day to all!