Read also in Italiano
Often, when someone hears about a one piece swimsuit, he immediately thinks of the sports version of it, that one wore in the pool while swimming. Actually, the one piece swimsuit can be a very stylish garment, also suitable for the spa and the beach! But above all, nowadays there are so many models and colors, that the one piece swimwear can also be a real sexy garment! I want to share with you my wishlist, a.k.a. the swimwear I would like if I will loose a few kgs in the gym, a.k.a. the swimwear I watch every day to motivate myself to keep going to the gym.
Before starting, I would like to put a note to the one piece swimwear: they are not good for everyone, or at least everyone needs a particular type of costume. Some swimsuits are too crumpled, highlighting the hips – and therefore to be avoided if your waist is not tonic! – others may have details that could mark some imperfections, such as a ring placed at the height of the stomach. What do you think, would you be interested in doing an ad-hoc article on how to wear one piece swimsuits?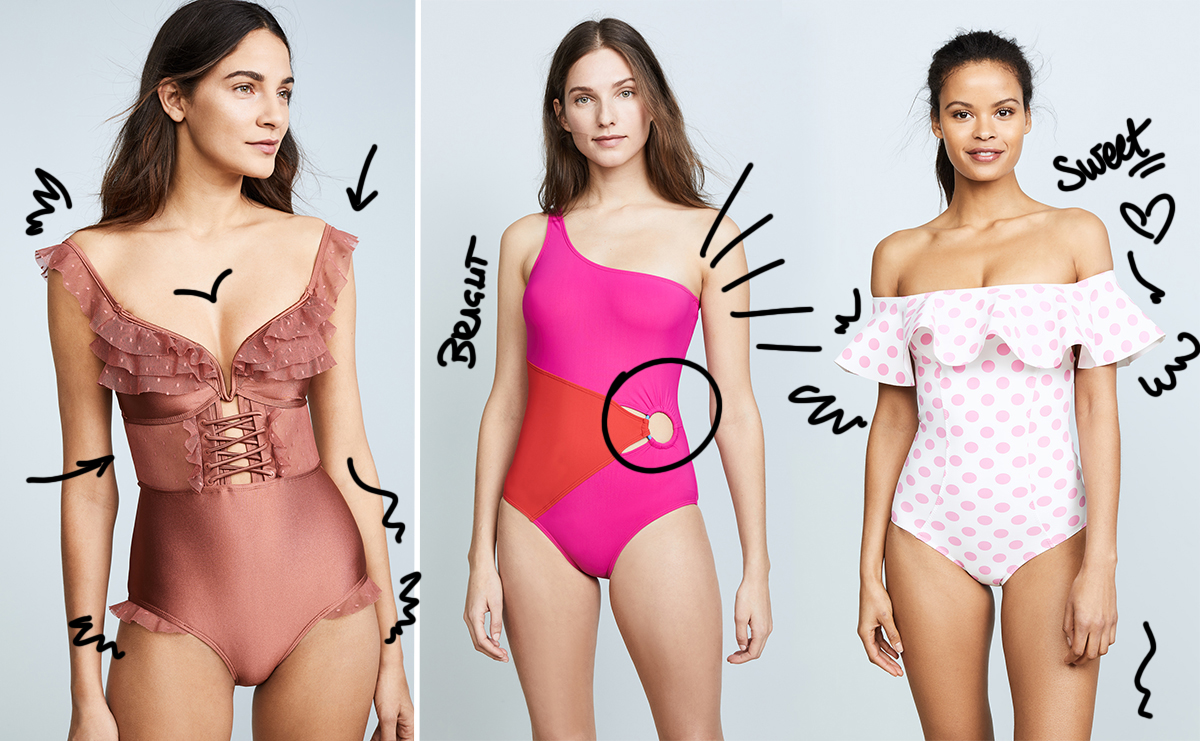 Said that, below you can find 3 of the models that are trendy now, plus my personal whishlist of swimsuits! Oh, I have a surprise of you as well: from today till the 14th of April, on Shopbop, website where I took those wonderful models, there is a big sales!! Using EVENT18 at checkout, you can have 20% discount on all orders up to 500$, or 25% for all orders from 500$ and more! II think this is the right moment to buy a one-piece swimsuit.. Well, at lest that's what I will do!
Ruffles swimsuit
They are the most romantic, swimsuits with ruffles have two qualities: they hide what we want to hide and emphasize what we lack of. Let me explain it: the ruffles at the breast level bring volume where there is no volume, in the case of small breasts. It resize the body and help very thin girls. If, on the other hand, the ruffle is at the height of the hips, for example, it helps to cover a few rolls that could instead be accentuated by the swimsuit. Long story short, it volumizes, hides and is super romantic!
1,6 e 8 Karla Colletto | 2 Eberjey | 3 Lisa Marie Fernandez | 4 Kate Spade New York | 5 Marysia Swim | 7 Beth Richards | 9 PAPER London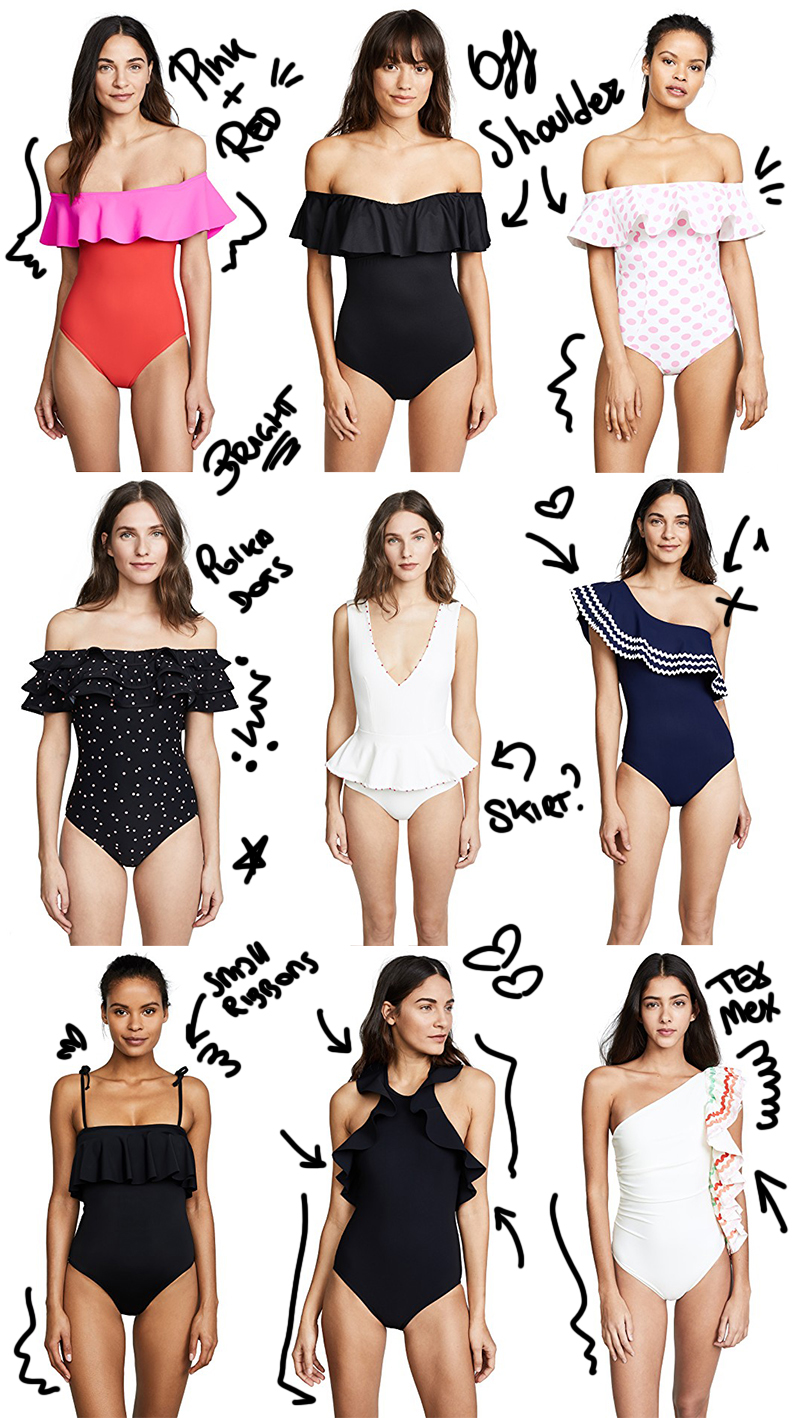 Sexy Swimsuit with naked skin
The swimsuits with naked back or nude skin inserts are certainly the sexiest. Some have their back completely uncovered, others have openings on their stomachs or hips. Small fragments of skin that can be seen from the swimsuit have a very sensual effect. These costumes are also the most difficult to wear. Remember: what is not covered.. it is obviously very visible!
1 Milly | 2 Zimmermann | 3 Peixoto | 4 MIKOH | 5 ViX Swimwear | 6 Norma Kamali | 7 Araks | 8 Karla Colletto | 9 PAPER London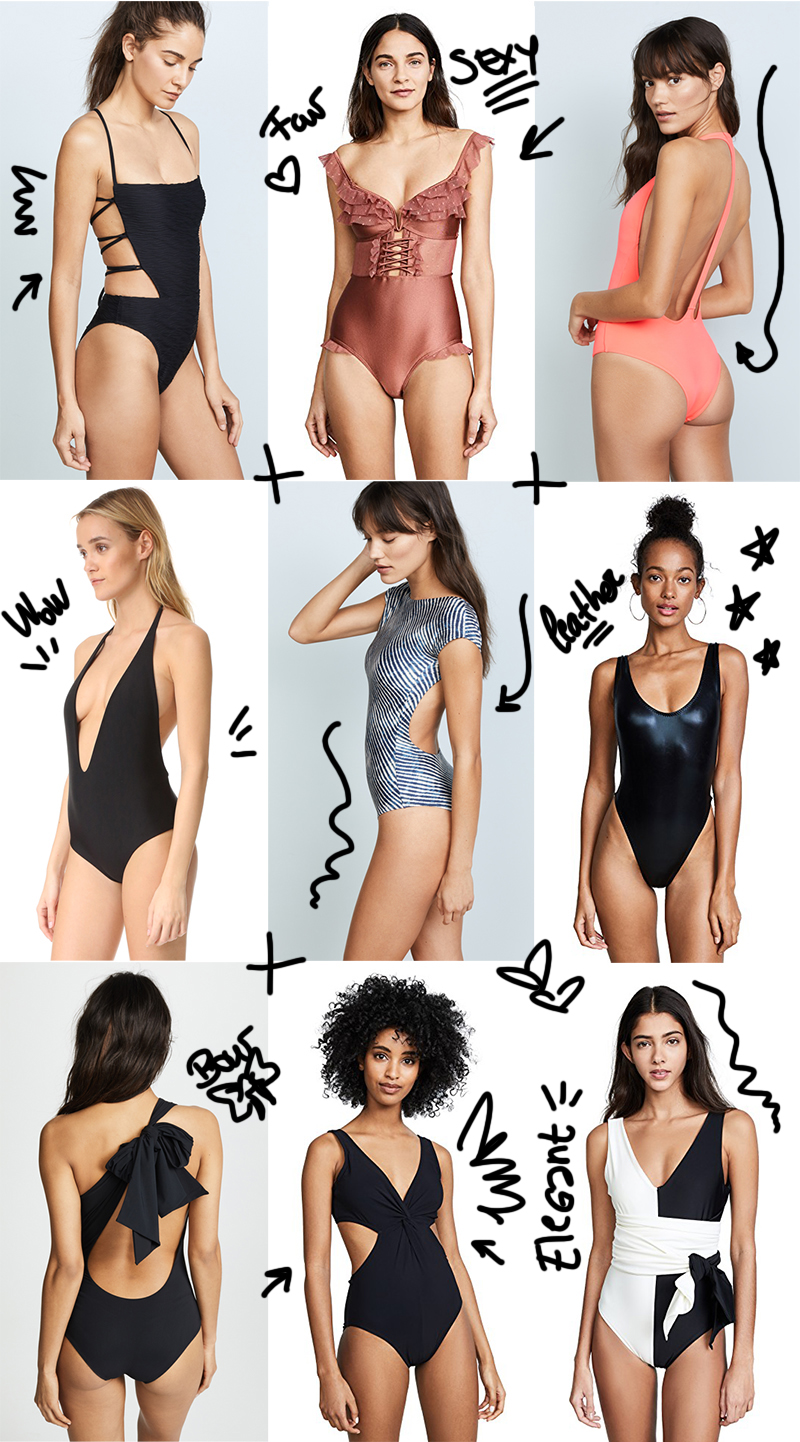 Bright color swimwear
For the ones who love bright colors, for those who love to have fun and for those who have tonic silhouette or that simply is not ashamed of it. Then, bright color swimwear is perfect for you! They are with ribbons, polka dots or with multiple contrasting colors. Com'on let the party start!
1 e 7 Mara Hoffman | 2 Maaji | 3 Diane von Furstenberg | 4 Karla Colletto | 5 Marysia Swim | 6 Eberjey | 8 Araks | 9 JADE Swim
And you, what swimsuit are you?
PS more swimwear models can be found HERE!