Spring looks | FromWhereIStand #2
Eccoci alla seconda puntata di tutti quei look che fotografo anche/solo col cellulare (la prima la trovate QUI). Per mancanza di tempo, per mancanza di voglia, per mancanza di supporto fisico e morale da parte di qualcuno – fatemi le fotooooo vi pagoooo mi servono!! No, eh? – non riesco sempre a scattare le foto dei miei look, quindi a volte qualcuno viene fuori così, dall'alto verso il basso, come lo vedo io. Hashtag FromwhereIstand. Allora ve li posto così questi, almeno potete intravedere qualcosa! Per vedere queste foto e rimanere sempre aggiornati basta che mi seguiate su Instagram (@eleonora_pellini) oppure anche su Snapchat per i video live dei miei look e le mie recensioni e tanto altro (mi trovate come @eleonceupontime). Ovviamente, sono anche su Facebook e Twitter. Vi lascio a queste piccole foto, qual è il vostro look preferito? Buona giornata a tutti!
Spring looks | FromWhereIStand #2
Here we are for the second issue of all the looks that I have to shoot only/also with the phone (The first is HERE). Usually I don't have time, I'm not in the mood or simply I don't have nobody that want to sacrifice himself – take me photoooos please I need them! No, uh? – to take me some photos for my outfit posts for the blog, so some of them are shot directly from where I stand, from the above. Hashtag FromWhereIStand. I'll show you those photos so that you can have a peak! To see those photos live and stay updated you should follow me on my Instagram (you can find me as @eleonora_pellini) or also on Snapchat where I take videos of my looks and also do reviews about products that I try, etc. You can find me as @eleonceupontime. Obviously I'm also on Facebook and Twitter. I'll leave you with those photos, which is your favorite look? Have a nice day!
Shoes: H&M | Sunnies: ZeroUV | Bag: Michael Kors | Jeans: Pull&Bear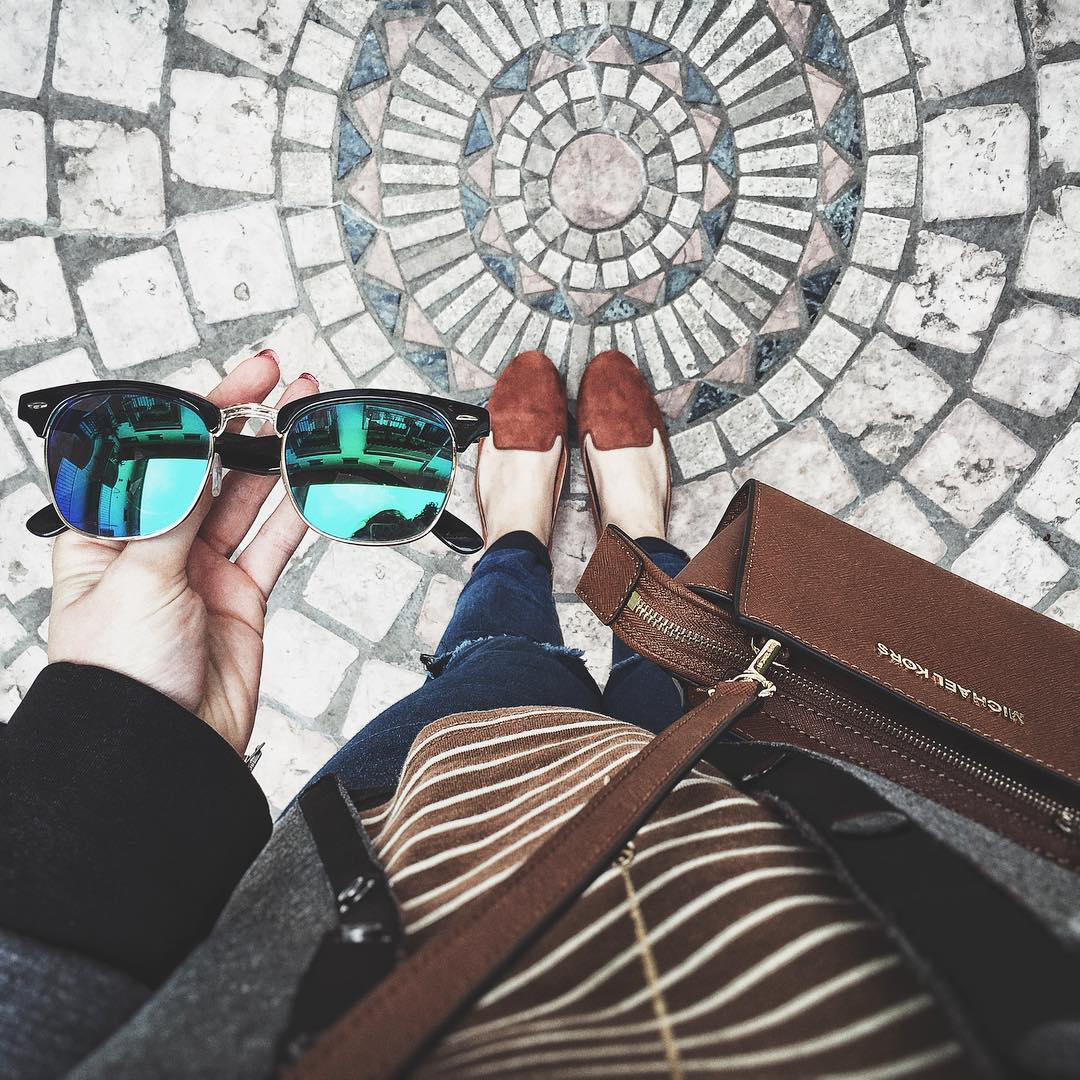 Shoes: Dr Martens | Backpack: Michael Kors | Dress: Calliope
Shoes: Primark | Jeans: Pull&Bear | Har: H&M | Bag: Michael Kors
(Complete look HERE)
Shoes: H&M | Jeans: no brand | Tee and Trench: Primark | Bag: Michael Kors | Sunnies: ZeroUV
Shoes: Dr Martens | Waterproof trench: Primark | Umbrella: Tiger
Shoes: Primark | Skirt: Local Market | Faux Fur PonPon: local shop | Bag: Michael Kors | Biker Jacket: Zara
(Complete look HERE)