New Year's Eve looks | Idee look per capodanno
Glitter? Vestito? Pantaloni? Tutto va bene per la notte più scintillante dell'anno: la notte di capodanno! Mancano pochissimi giorni e io ancora non ho deciso cosa indosserò. Se rimaniamo in casa tra amici? Allora look comodo, fatto di pantaloni – magari culottes – con un crop top glitterato e comodi stivaletti. E se andiamo a ballare? Allora assolutamente un tubino glitterato, oppure uno in neoprene nero da abbinare a gioielli, clutch e tacchi in paillettes. Ma se andiamo a giro al freddo? Beh calze pesanti, una gonna e ruota e un bel crop-top scintillante, da abbinare a degli stivali sopra al ginocchio, per tenersi al caldo. Sopra un pellicciotto (come quello che ho indossato QUI ad esempio) e direi che ci siamo! Ora però ho un altro problema: voglio tutto!!! Voi avete già deciso cosa indossare a capodanno? Come lo passerete? Buona giornata a tutti!
Glitter? Dress? Trousers? Everything could be the best look to wear in the most shimmering night in the year: the new year's eve night! There are so few days to go and I still haven't decided what to wear yet. What if we stay all together at home with friends? Then the look could be quite comfy, maybe with trousers – what about culottes? – matched with a sequined crop-top and flat booties. But if we go dancing? Well, the best choice is a glitter dress, or a black neoprene dress combined with shimmering heels and accessories. What if we go having fun in the central city square? Then heavy tights, a rounded skirt and a sequined crop-top, all with over-the-knee high boots just to stay warm. Then a faux fur (maybe like the one I wore in THIS look) and the outfit is done! But now there is another problem: I want them all!! Have you decided yet what to wear? What will you do? Have a nice day!
1. Pink little sequined dress 3. Neoprene Black dress 4. Rounded black skirt 5. Sexy navy dress 6. Sequined heels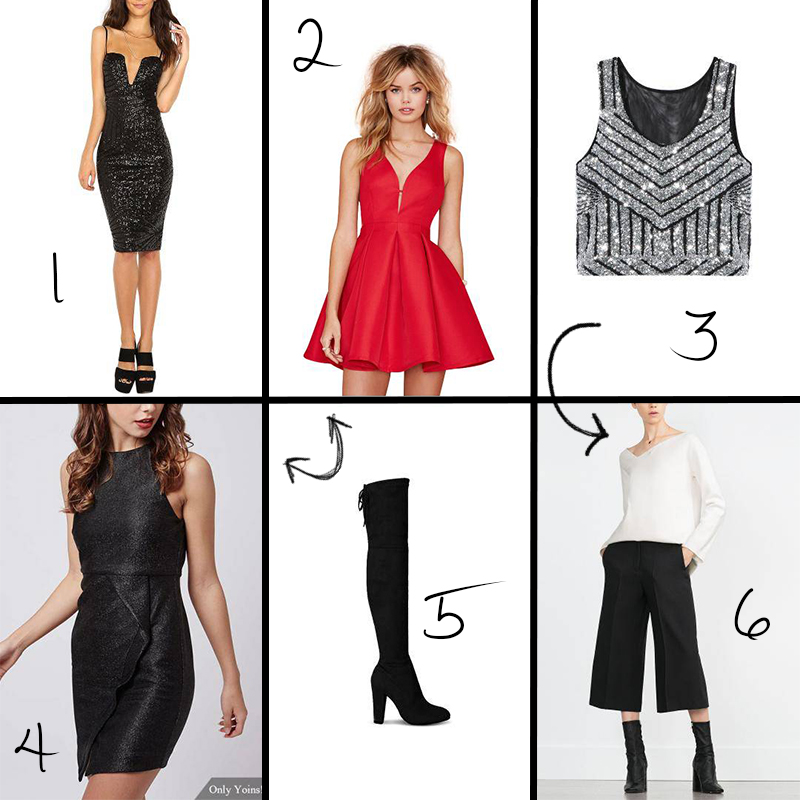 1. Bodycon glitter dress 2. Red rounded sexy dress 3. Silver crop-top 4. Sparkling black dress 5. Over-the-knee boots 6. Culottes pants
1. Green sequined dress 2. Black sequined dress 3. Green sequined top