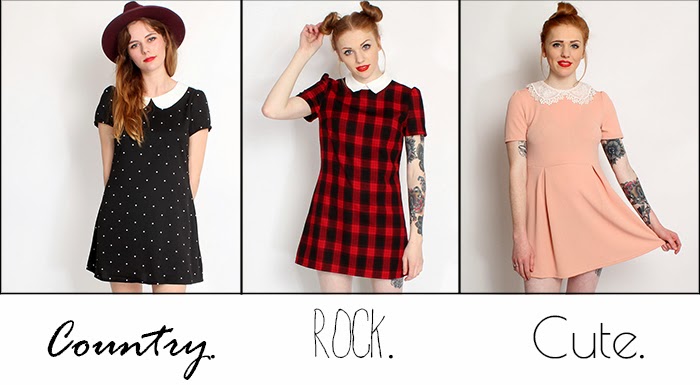 Sapete cosa mi piace un sacco della primavera? Poter indossare tanti vestitini, anche durante il giorno. Colorati,corti, svolazzanti.. Sono adorabili! Il modello che più mi piace è quello con il collarino intono al collo. Contornia il vestito e lo rende subito speciale senza bisogno di aggiungere collane o altro! Proprio per questo ho deciso di cercarne un po' sul web e sono finita su Ark. Ha una selezione vastissima di questo tipo di vestiti e sapete cosa? Ce n'è per tutti gli stili! Dal vestitino a pois con il collo a peter pan che, indossato con un cappello a tesa larga, fa subito country girl, al vestito tartan con collo più a maschio che ha un mood rock che, cioè, lo voglio! E poi il classico vestitino rosa con il collo ricamato, per le romantiche.. ovvero non per me.
Vi piace questo tipo di vestito? Voi ne avete uno nell'armadio? Buona giornata a tutti!
Do you know what I love about spring? That you can wear a lot of dresses, even in the daytime. Short, colorful, soft.. I love them! The one I love most is the collared dress. It contour the neck without having to wear necklaces or so on. So I decided to search on the web and I bumped into Ark. It has a lot of style for all the tastes! From the polka-dotted dress that, worn with a huge hat, is a perfect country look, to the tartan dress with a male collar neck that's so rock! And then also the pink version with the lace collar.. so romantinc! So, not for me!
An you? Do you like those dresses??
If you haven't done it yet, follow me here:

GOOGLE FRIEND CONNECT

TWITTER

FACEBOOK

BLOGLOVIN