Eccoci ad un altra edizione dell'annuale evento di
ItalianFashionBloggers
! Il tema è
Be Yellow
! Non avendo molti capi gialli nel mio guardaroba, ho deciso di indossare questi jeans giallo scuro insieme alla pochette di
Rossella Carrara
dello stesso colore con una camicetta in pizzo e blazer e tacchi neri. Un look semplice ma non scontato, non vi pare? 😀 Fatemi sapere cosa ne pensate!
It's started the annual
ItalianFashionBlogger
event! This time the theme is
Be Yellow
! I don't have a lot of yellow clothes, so i decided to wear my yellow jeans with my
Rossella Carrara
clutch that has the same color and a lace shirt and black blazer and heels. A simple look but it's chic, isn't it? 😀 Let me know what you think!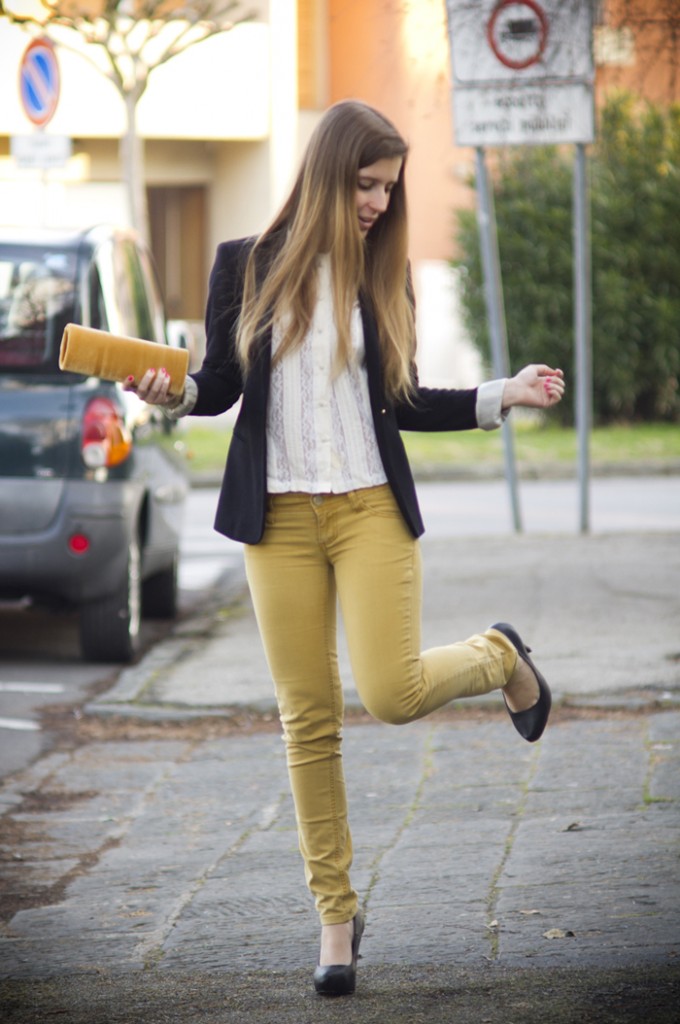 WHAT I'M WEARING:SHIRT: thanks grand mom BLAZER: ZaraJEANS: Stradivarius
HEELS: Local MarketCLUTCH: Rossella CarraraBRACELET: H&M Votate il mio look su Chicismo per farmi vincere il contest! 😀 Vote my look on Chicisimo so i could win the competition! 😀
http://misslarrytheories.blogspot.com/
http://orangegworld.blogspot.com/
http://www.isfashionmypassion.com/
http://www.mediademocracy.it
http://www.fashionblogcolibri.com/
http://www.chicneverland.com
http://patchworkporter.blogspot.com
http://www.federica-fashioninwonderland.blogspot.com
http://www.theredgirlsmile.com/
http://www.fashiondeliz.com
http://lamodedesbonbons.blogspot.com
http://www.crzcproject.com/
http://ilovegreeninspiration.wordpress.con
http://inthelateststyle.blogspot.com/
http://modaomodathissthequestion.blogspot.com/
http://www.fashion-breeze.com
http://fashion-cant-handle-me.blogspot.com
http://diaryfromgoldencage.blogspot.com/
http://dincanto.blogspot.com/
http://myworldwidefashionblog.blogspot.com
http://www.ireneccloset.com
http://www.thefashioncoffee.com
http://lapasticceriadellamoda.blogspot.com
http://acheapcloset.blogspot.com
http://fifthavenue5.blogspot.com
http://stellacicirella.blogspot.com/
http://www.keepintouchwithfashion.com
http://vogueandtrend.blogspot.com/
http:// www.scostumista.blogspot.com
http://color-blockbyfelym.blogspot.com
http://poppiess.blogspot.com/
http://black–pen.blogspot.com/
http://Anordinarylifestylebook.blogspot.com/
http://missroxygiuliano.blogspot.com
http://bluenails-girl.blogspot.com
http://www.laurenstreetstyle.blogspot.com
http://www.fashionistartist.blogspot.com
http://frombaroquewithlove.com/
http://myfairdress.blogspot.com/
http://www.neifilef.blogspot.com
http://www.thebag-girl.blogspot.com
http://aleshoppingtherapy.blogspot.com
http://theblackberryfruit.blogspot.com/
http://www.styleshouts.com
http://blogberrye.blogspot.com/
http://infrontofthecloset.blogspot.com/
http://bornineightytwo.com/
http://moongreyhound.blogspot.com
http://onceupontimeblog.com
http://piusc2011.blogspot.com/
http://www.glonara.com
http://tinagfashionblog.blogspot.com/
http://www.jeveronique.com
http://diamantisulsofa.blogspot.com/
http://www.dressupforarmageddon.com
http://les-moustaches.blogspot.com
http://fashion-sweet-fashion.blogspot.com/
http://www.tinatelli.it
http://thelavena.blogspot.com/
http://veronikagi.blogspot.com/
http://www.uptoday.it
http://myfashioncrumble.blogspot.com
http://thealmondeyedmilkshake.blogspot.com
http://marilunascosmos.blogspot.com/
http://sambrilla.blogspot.com/
http://thefashionamy.blogspot.com/
http://www.lechicchedipaola.it/
http://www.soapmotion.com
http://dazzling-wwwdazzling.blogspot.com/
http://thefashiondiet2.blogspot.com
http://gliocchidelfashion.blogspot.com/
http://vitadasbally.blogspot.com/
http://www.fairyshoes.org
http://www.thegummysweet.com
http://www.morganalee.blogspot.com
http://www.lefreaks.com
http://alessandrasfashion.blogspot.com
http://myflair-myflair.blogspot.com
http://maylovefashion.blogspot.com/
http://www.smilingischic.com
http://princesspamsdiary.net
http://www.theshabbylabels.com
http://www.fashioncrazyball.com
http://www.thefabframe.com
http://www.spilliestelle.bloog.it
http://larmadiodimartina.blogspot.com/
http://www.thediamondstyleleblog.com/
http://preppybroots.style.it/
http://antheafashion.blogspot.com/
http://tati-loves-pearls.blogspot.com
http://justrockandrose.blogspot.com/
http://lafacctory.blogspot.com/
Proudly organized by :
http://www.italianfashionbloggers.com
With the lovely partnership of :
http://www.chicisimo.it
..and a wonderful Gift Sponsor :
http://www.fashiondemocracy.it
If you haven't done it yet, follow me here:

GOOGLE FRIEND CONNECT

TWITTER

FACEBOOK

BLOGLOVIN