Buondì a tutti! (: In queste giornate grigie e studiose ho poca voglia di colore.. Ecco il perché di questo look quasi da funerale! XD La gonna in realtà è un vestito, preso quest'estate al mercato a 3€! 😛 Il cappellino l'ho rubato a mia madre, i biker boots ormai sono diventati i miei migliori amici!
Vi piace l'anello a forma di croce? L'ho comprato dal sito
Rings and Things
di Young Jewelery. E' un sito inglese dai prezzi molto abbordabili. Peccato che i pacchetti con cui imballano gli articoli siano troppo leggeri! L'anello, infatti, mi è arrivato rotto. L'ho fatto presente e me ne hanno inviato un altro. Stessa storia, purtroppo! Alla fine ho deciso di incollare il pezzo rotto e di mettermelo lo stesso.. Ma voi state attenti! :S
Insomma, vi piace questo dark-look? 😀 Buon inizio settimana a tutti!
Good morning! (: In those grey and studying days i don't feel like colors.. That's the reason why this look is quite a funeral look! XD The skirt is a dress, bought last summer in a market place for only 3€! 😛 I stole the hat from my mom, the biker boots are my best friends now!
Do you like the cross ring?I bought it from
Rings and Things
by Young's jewelery. It's a English site with very affordable prices. Too bad that the packages they pack the items are too light! The ring, in fact, arrived broken. I told this and they have sent me another ring. Same story! So, I decided to glue the broken piece and put the ring the same .. But you must be careful! :S
So, do you like this
dark-look
? 😀 Have a nice week start!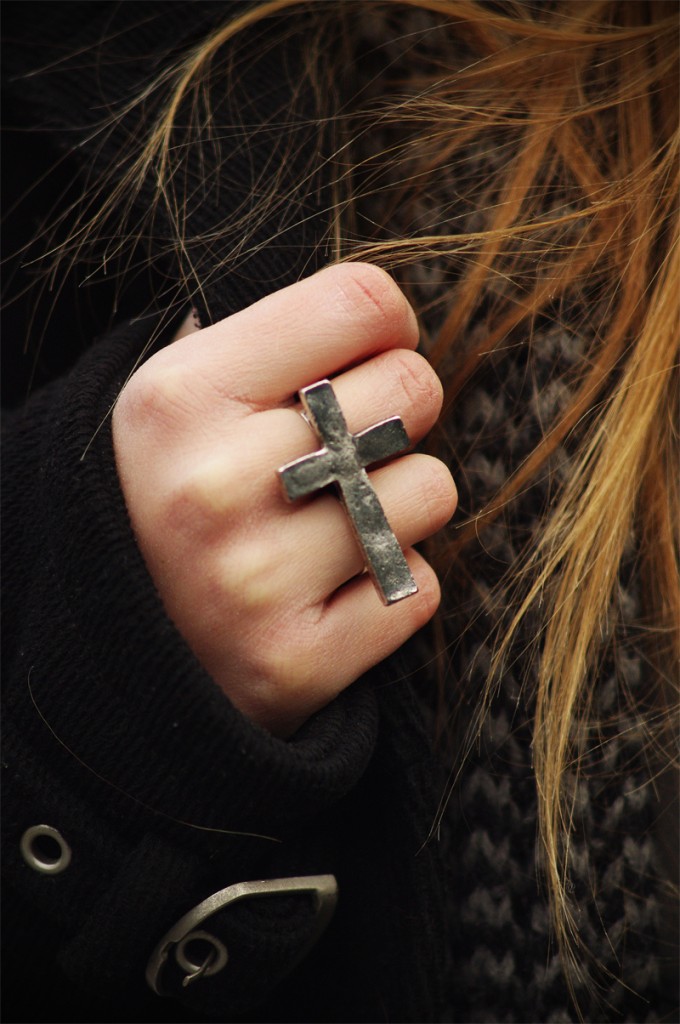 WHAT I'M WEARING:DRESS: Market placeSWEATER: Fred PerryCOAT: ZaraBLAZER: Market place
HAT: my mom's closetSCARF: Naf NafTIGHTS: TezenisBOOTS: AshRING: Rings and Things

If you haven't done it yet, follow me here:

GOOGLE FRIEND CONNECT

TWITTER

FACEBOOK

BLOGLOVIN