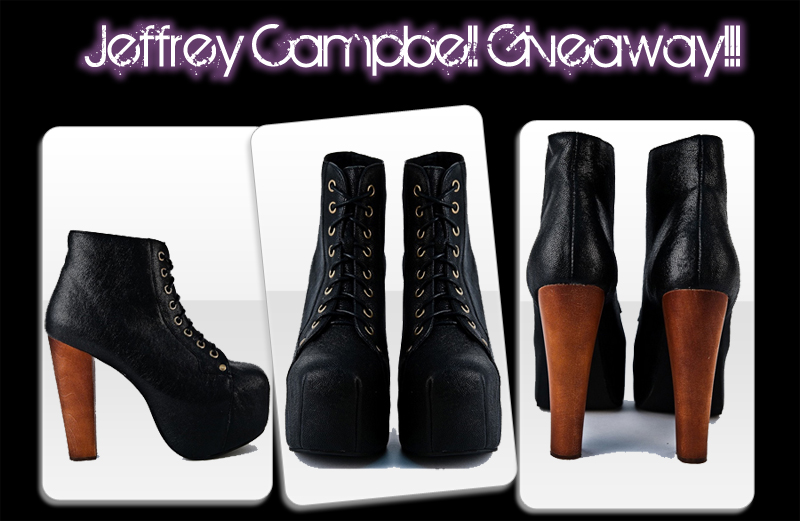 Ed ecco la sorpresa di cui vi parlavo!!! 😀 Tutte voi conoscerete le famosissime Lita di Jeffrey Campbell.. Ma vi piacerebbe vincerle?? 😀 Come? Basta seguire questi step:
Registratevi su www.thisisamaze.com, in alto cè un box grigio scuro dove inserire i vostri dati, con mail, numero di telefono (se volete) e tutto il necessario
Mettete MI PIACE alla pagina Facebook di This is a Maze



lasciate un commento sulla pagina Facebook di This is a Maze qui dove in breve raccontate con cosa indossereste le scarpe e in quale occasione, dovete essere simpatiche e accattivanti, indicando anche il vostro numero di scarpe (le Lita vestono numero reale) e se il nome e cognome di facebook non è il vostro reale, indicate anche il nome e cognome veri.
Diventate mie follower con Google Friend Connect

Mettete MI PIACE alla mia pagina facebook


Lasciate un commento sotto questo post con scritto "partecipo" e il vostro nome Facebook con cui avete lasciato il commento
Avete tempo fino al 17 novembre alle 12.00! Vincerà il concorso la ragazza che avrà pubblicato il commento più simpatico! (:
Siccome siamo varie blogger a organizzare questo giveaway, potrei vincere anche io queste favolose scarpe!! Come? Il post con più commenti vincerà queste favolose scarpe. Se mi volete bene (so che me ne volete.. XD) commentate in tante questo post e condividetelo!! 😀
Grazie a chi lo farà e in bocca al lupo a tutte le partecipanti!!! 😀
And that's the surprise i promised you!!! 😀 Everybody knows the famous Lita by Jeffrey Campbell.. But would you like to win them?? 😀 How? You must follow those steps:
Sign up on www.thisisamaze.com, on the top of the page there's a gray box where you should fill your name, email and all the necessary
Click on I LIKE on the Facebook page of This is a Maze



Leave a comment on the Facebook page of This is a Maze here where you should say how you'll wear your shoes and in which event, you have to be funny and cool and you must say your email and your shoes number (Lita wear your real number) and if your Facebook name isn't your real name, write the real one.
Became my follower with Google Friend Connect

Click I LIKE on my Facebook page


Leave a comment on this post saying "I'm in" and your Facebook name, the same one that you've used for the comment.
The Giveaway ends the 17th of november at 12.00pm! The most funny girl will win the contest! (:Good luck to everyone!! 😀