Ieri finalmente sono riuscita ad andare al nuovo Hard Rock di Firenze! Amo l'hard rock, adoro vedere come ogni città riesce ad arredare il suo con uno stile sofisticato e sempre rock, con i muri di legno, i grandi lampadari, le sedie e le poltrone stratte e tanti, tantissimi cimeli dei più grandi artisti del pop, rock, punk. Dai pantaloni glitterati di Michael Jackson al cappello fucsia di Britney Spears, dalla borsetta di Madonna alla lettera di Sid Vicious dei Sex Pistols fino alla chitarra autografata dai Korn e la camicetta rossa di Elvis. Adoro l'animo rock di questo posto e di ogni città devo avere un souvenir: una t-shirt, una felpa, una canotta o anche solo la spilla.
Vi lascio alcune foto fatte col cell, il mio look era quasi-rock con la mia nuova collanina col teschio e i miei bracciali colorati sempre con i teschi! Magari se ci riesco vi farò rivedere l'outfit magari fotografato con la reflex! Poi non vedo l'ora di farvi vedere i miei acquisti di ieri!! 😀 Passate una buona domenica!
Yesterday I finally went to the new Hard Rock in Florence! I love hard rock, I love to see how each city has furnished it ​​with a sophisticated and always rock style, with walls of wood, large chandeliers, chairs and armchairs layer, and many, many relics of the greatest artists of the pop, rock, punk. From glitter pants from Michael Jackson to the shocking pink hat from Britney Spears, from Madonna's purse to the letter of Sid Vicious of the Sex Pistols, from the guitar autographed by Korn to the red shirt of Elvis. I love the soul rock this place and every city I have to buy a souvenir: a t-shirt, a sweatshirt, a vest or just the pin.
I leave you some photos taken with mobile, my look was half-rock with my new necklace with a skull and my bracelets with colorful skulls too! If I can maybe I will review the outfits photographed with the camera! I also look foreword to show you my purchases! 😀 Have a nice Sunday!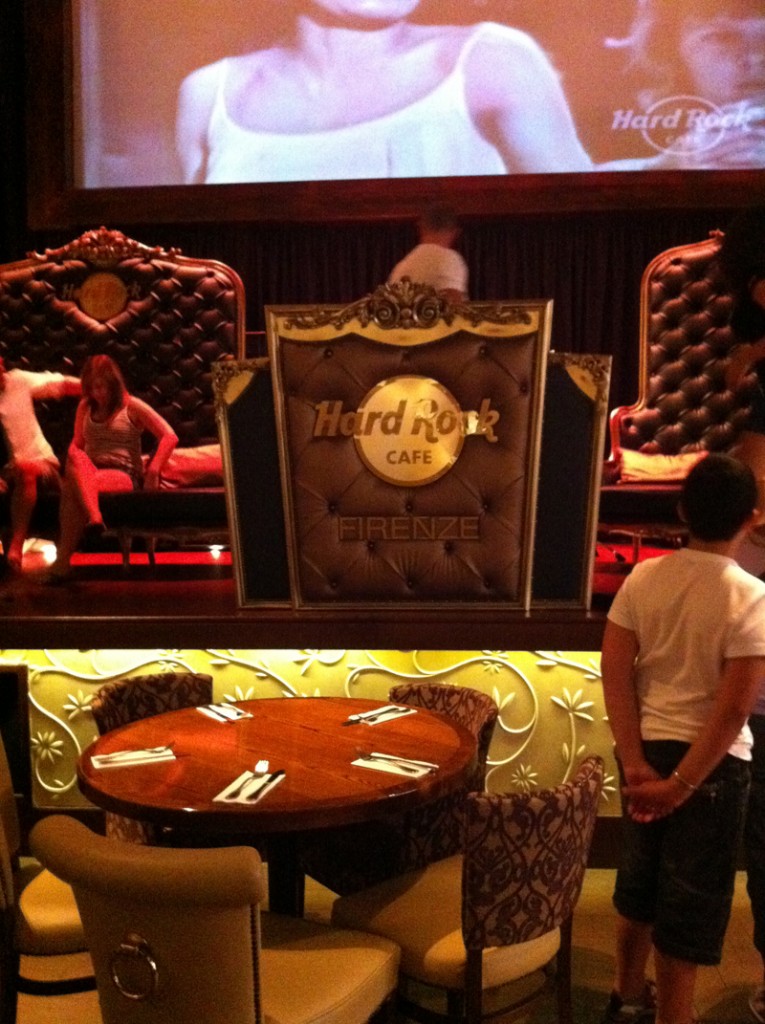 COSA INDOSSO/WHAT I'M WEARING:
CANOTTA/TANK: Bershka
GILET: no brand
JEANS: Miss Sixty
BORSA/BAG: Chapelier
BALLERINE/FLATS: Porselli
COLLANA/NECKLACE: DIY
BRACCIALI/BRACELETS: DIY
OCCHIALI DA SOLE/SUNNIES: Chanel