Ieri ho passato una splendida domenica insieme alla mia famiglia a
Marradi
, un paesino in provincia di Firenze (e non si direbbe dato il forte accento emiliano delle persone del posto!) dove c'era l'annuale festa della
castagna
. E' una specialità del posto e ce n'è davvero di tutti i tipi e forme. Dalle classiche mondine ai grossi marroni. Cotte oppure caramellate, alcune nella pasta, nel gelato, nelle torte salate o dolci. Insomma castagne in ogni modo immaginabile!! Mi sono completamente tolta lo sfizio di mangiare castagne per almeno un anno! Ahah! (non è vero, tant'è che abbiamo comprato mezzo chilo di castagne da farci a casa..!!!).
La cosa bella era che il paesino poteva essere raggiunto in treno da Firenze con un bellissimo treno d'epoca con tanto di locomotiva a vapore! (e che vapore, ha fatto fumo nero per tutto il tempo!! XD). Peccato esserci andati in macchina!
Per l'occasione ho optato per un look comodo e molto coperto data la "bassa" temperatura del luogo (bassa rispetto a Lucca, non eccessivamente freddo ma per me è comunque uno shock scendere sotto i 17 gradi xD). Vi piace? Siete mai stati a questa festa? La consiglio tantissimo perché è davvero simpatica e si mangia benissimo! Per tutti gli appassionati di castagne! (; Voi, invece, come avete passato la vostra domenica? Passate un buon inizio settimana!! 😀
Yesterday I spent a wonderful Sunday with my family in Marradi, a village in the province of Florence (and you would not think so because of the strong emilian dialect!) where there was the annual festival of the chestnut. It's a specialty of the place and there's something for all types and shapes. From classic to the big brown rice weeders. Cooked, or caramelized, some in the dough, ice cream, in pies or cakes. In short, chestnut in every imaginable way! I completely removed the whim of eating chestnuts for at least a year! Haha! (not true, in fact we bought a pound of chestnuts to cook them at home ..!!!).
The nice thing was that the village could be reached by train from Florence with a beautiful vintage train with a steam locomotive! (and that steam has black smoke all the time! XD). It was a pity that I went by car!On this occasion I opted for a comfortable and covered look because of the "low" temperature of the place (lower than in Lucca, not too cold but for me it's still a shock drop below 17 degrees xD). Do you like it? Have you ever been to this festival? For all fans of chestnuts! (; However, how did you spend your Sunday? Spend a good beginning of the week! 😀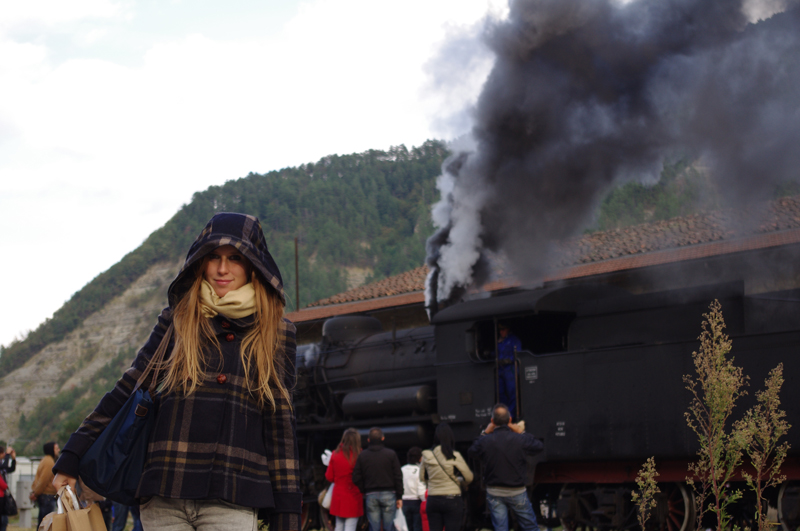 COSA INDOSSO/WHAT I'M WEARING:
GIACCA/COAT: Zara
JEANS: Zara
SCIARPA/SCARF: no brand
BORSA/BAG: Chapelier
STIVALI/BOOTS: Monica's Shoes