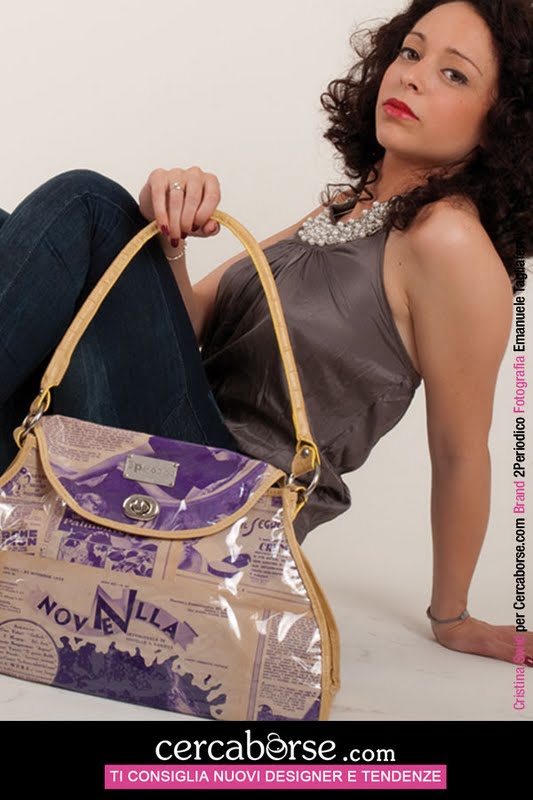 Finalmente ecco il 4° giveaway in collaborazione con Cercaborse.com! Questa volta c'è in palio una splendida borsa firmata 2Periodico!!! Non conoscete il designer? Allora leggetevi l'intervista che ho potuto fargli qui.
Questa volta però la borsa va guadagnata. Come?? Leggete le regole! 😀
Dovete diventare follower del mio blog tramite GFC (a lato il pulsante segui o in alto nella barra di blogger)
(FACOLTATIVO) Diventate follower del mio blog tramite Bloglovin' QUI.
Diventate fan della pagina facebook di Cercaborse.com QUI.
Postare un outfit ( uno per persona ) sulla fan page di Cercaborse.com .Non è necessario che l'outift venga indossato, l'importante è che sia ben visibile.
Scrivete un commento a questo post col link della foto da voi postata.
Vincerà la persona che avrà ricevuto più MI PIACE!! Avete tempo fino a lunedì 18 luglio alle 12:00!
Ovviamente parteciperò anche io! (Anche a me piace questa borsa, sapete? :P) Quindi in bocca al lupo a tutti e che vinca il miglior… outfit! 😀
Finally here there is the 4th
giveaway
with Cercaborse.com! This time you could win this bag from
2Periodico
! You don't know the designer? Have a look to my interview
here
! 😀
This time you have to deserve the bag. How?? Read the rules! 😀
Follow me with GFC (on the right the button follow or on the bar on the top of the page)
(OPTIONAL) Follow me via Bloglovin' here.
Follow Cercaborse.com on their facebook page here.
Post an outfit (one per person) on the fanpage of Cercaborse.com on facebook. You don't have to wear the outfit, but it must be visible.
write a comment to this post with the link of the photo you have posted.
The person with the most I LIKE will win the bag! You have until Monday 18th July at 12.00 am! I'm going to partecipate to the contest! So good luck to all! 😀